Monday 18 March 2013

Raising Cane's River Center Arena
Three Days Grace, Shinedown & P.O.D.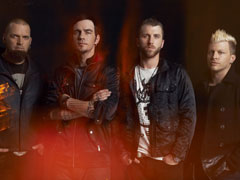 What's the buzz? Do you want to know what's happening? A concert that is absolutely amazing is about to happen at no less than the Baton Rouge River Center – the only place a show as great as this has to happen. It is 'Three Days Grace, Shinedown and P.O.D.' show that will be making the night so special in a sure sold out concert!
Talk about a performance that never fails to impress audience and there's P.O.D. for you. If you want the stage to be taken by storm, there is Shinedown to take care of that. And with Three Days Grace also joining in, it will surely be a night to remember what with the multi-platinum selling and award-winning recording artists and rock band, it will be another tickets sold-out night of fun, music and groovin' like no other. Experience the powerful vocals of these three remarkable combinations of musical genius, undeniably among the most successful rock bands of the decade.
Go out and join the throngs of fans as all roads will lead to the River on the night of the concert. Forget about being sad when you rock and roll with the rhythm of the night of this great concert.